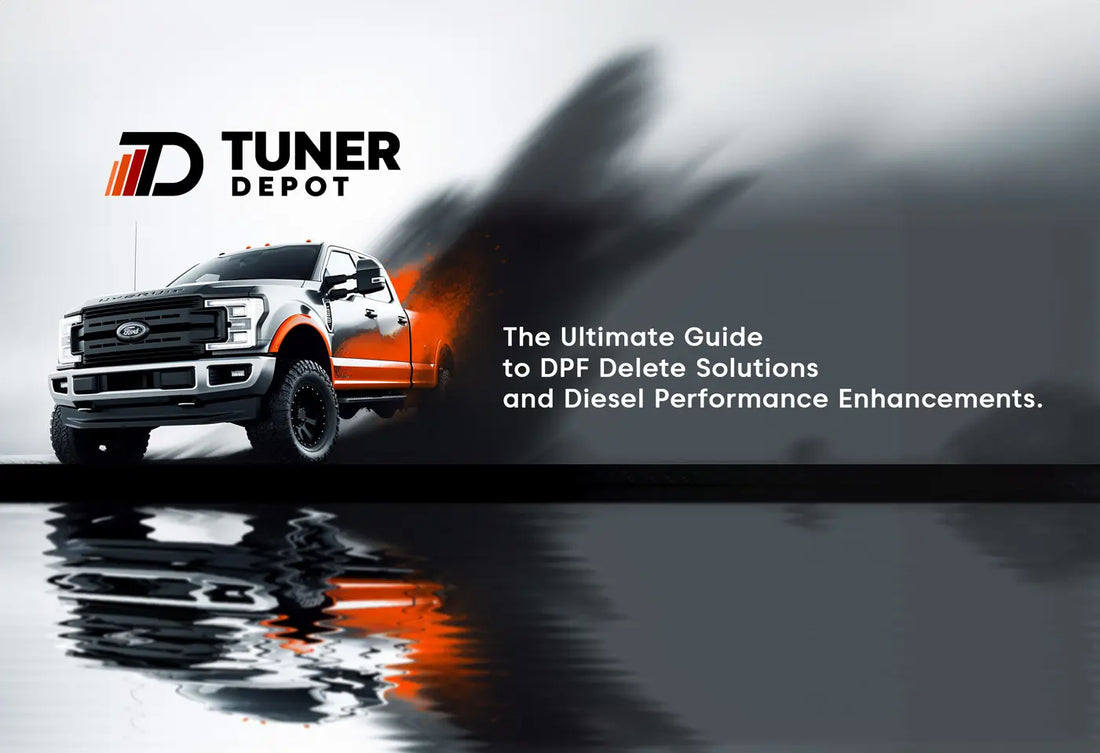 A Definitive Guide to Choosing the Best DPF Delete Shop for Diesel Performance parts.
Understanding DPF Delete Solutions and Diesel Performance Enhancements.
Introduction
Welcome to the intersection of diesel performance and efficiency at Tunerdepot.com–Your One-Stop DPF Delete Shop. Whether you're a diesel pickup truck aficionado or a professional in search of top-notch DPF delete solutions, you've come to the right place. So, In this comprehensive guide, we will first dive into the world of Diesel Particulate Filter (DPF) Deletes to explore the broader spectrum of diesel performance enhancements. After that, we will answer Why Tuner Depot is the best source for you to shop for your DPF Delete Performance Parts for your Diesel Pickup Truck.
Understanding Diesel Performance Parts
Firstly, we start by realizing that modern diesel engines are marvels of power and efficiency, thanks to components like the Diesel Particulate Filter (DPF), Exhaust Gas Recirculation (EGR), and Selective Catalytic Reduction (SCR). Moreover, Delete Tuners and Powertrain Control Modules (PCMs) play pivotal roles in optimizing these engines, offering drivers an enhanced experience behind the wheel.
Understanding Key Diesel Engine Components:
Diesel Particulate Filter (DPF):
This component, crucial for trapping soot, plays a significant role in controlling emissions.
Exhaust Gas Recirculation (EGR):
The EGR system reduces nitrogen oxide emissions and is a vital part of the engine's eco-friendly design.
Selective Catalytic Reduction (SCR):
SCR uses a urea-based solution to reduce harmful emissions, making it an essential part of modern diesel engines.
PCM in Diesel Engines
The Powertrain Control Module (PCM) is akin to the engine's brain. In other words, it controls critical aspects of the engine's operation, and understanding the difference between locked and unlocked PCMs is vital for effective tuning.
DPF DELETE Tuners
Diesel tuners, or engine tuners, are pivotal in fine-tuning an engine's performance. They adjust crucial parameters to enhance the vehicle's power and responsiveness. At Tuner Depot, we offer a range of tuners that cater to various needs and vehicle models. Our bespoke Tune files are designed for various tuning platforms including Mini Maxx Tuners, EfiLive AutoCal & The Black Bandit Iron Loader
Deep Dive into DPF Deletes
At the core of many diesel performance discussions lies the concept of DPF Deletes. A DPF Delete involves removing the diesel particulate filter and reprogramming the engine's computer, which can lead to improved performance and efficiency. At Tuner Depot, we specialize in providing DPF Delete solutions tailored to a variety of diesel truck models.
Why Opt for a DPF Delete?
Enhanced Performance: Boost in horsepower and torque; improved fuel efficiency.
Economic Savings: Reduced maintenance costs; prolonged engine life.
Authentic Diesel Experience: Deeper engine sound; cooler engine operations.
Simplified Systems: Fewer components lead to fewer problems; and enhanced reliability.
Considerations: Louder exhaust sound; potential for visible exhaust smoke; distinct diesel odor; need for regulatory compliance awareness.
DPF Delete Kits - What to Look For
When selecting a DPF Delete Kit, consider factors like compatibility with your truck model, ease of installation, and the reliability of the components. Our ALL-IN-ONE DPF DELETE kits at Tuner Depot are designed with these considerations in mind, ensuring a seamless upgrade experience.
Choosing the Right DPF Delete Shop
As your trusted DPF Delete Shop, Tunerdepot.com offers expert advice along with quality DPF Delete Kits dedicated to meeting your diesel delete needs with precision and care. Our All-in-one kits comprise: 
Along with these our customers can add Accessories like SOTF switches or a pyrometer, Cold Air Intakes and Engine Parts & Pipes like Manifold kits and Intercooler pipes. 
Wide Array of Vehicles and Engines
Tuner Depot aims to be the best DPF Delete Shop by catering to a diverse range of diesel engines and vehicle types:
Other Models
Various models within the Cab & Chassis range
Notes - The availability of specific parts and compatibility may vary.
Legal Considerations for DPF Deletes
It's crucial to understand the legalities of DPF Deletes. These modifications may not be permissible for road use in all areas, so we recommend checking local regulations before proceeding.
Conclusion
DPF Deletes, along with other diesel performance enhancements, can significantly upgrade your diesel truck, offering improved performance and efficiency. At Tunerdepot.com, we're committed to providing the best solutions and advice in the market.
Contact and Further Information
For more details or to explore our extensive range of DPF Delete services and diesel performance parts, please browse all our collections at Tunerdepot.com. Trust us as your One-Stop DPF Delete Shop for all your diesel truck needs, from DPF Deletes to comprehensive performance upgrades.